Book Appointments Contact Us Reiki Training
Click Here
You'll come across two Reiki Schools of thought:
1) No, as Reiki is Universal Life Energy (Spiritual Energy) and it is everywhere and available to all, you don't need anyone to teach you. You just read a book or someone can send you a distant attunement (initiating you into Reiki). People with this view maintain that that's all there is to it.
If you can read a book (theory) and start driving a car without any assistance at all from an instructor (practical application), then you are likely to accept the view that personal teachers are optional. Some teachers don't consider it necessary for you to attend even one class based course (even though they may have taken class based training).
2) Reiki requires the student is attuned or initiated into Reiki by a Reiki Master and Teacher who has himself / herself been so attuned. Even if you don't consider personal training necessary right now, if you want to help others professionally, sooner or later you are likely to want to get personal training from a Reiki Master and Teacher. I have also mentioned other important considerations elsewhere.
Keep an open mind - ultimately, the choice is yours and you're the only one who can decide which path to take ... and when.
More ... Reiki Training in person or distance learning ...
More ... Reiki FAQS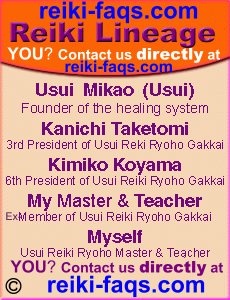 reiki-faqs.com: KK © All rights reserved 2006 to date
CAM Practitioner, Certified Trainer and Teacher, Writer, Reiki Master and Teacher