Book Appointments Contact Us Reiki Training
Click Here
Come and learn Reiki 1st Degree (Level 1), Reiki 2nd Degree (Level 2), Reiki 3rd Degree (Level 3 - Master and Teacher) - experience what energy healing or energy medicine is all about.
Reiki 1 is for your own personal use and self-development
Reiki 2 attunes you to help others as a Reiki Practitioner
Reiki 3 attunes you to help others as a Master, and as a Reiki Teacher to attune students to Reiki 1, 2 and 3.
If you are based in North London (or you can travel by car or public transport), you can take Reiki Courses.
Reiki Training is available subject to mutually agreed training dates and times, full days, half days, evenings, weekends (subject to availability of our Reiki Masters).
North London Reiki Training Dates
Reiki Courses and Classes normally available in North London within easy reach of:
Next Step
Contact us to take North London Reiki courses and Reiki classes - tell us a little bit about yourself, why you want to study Reiki and why our course, where did you hear about this training? Please note we cannot reply to all applications - if you do not hear from us within 7 working days, that means our courses may be full up or not available at the moment.
Reiki Level 1 ... course, workshop ...
Reiki Level 2 ... course, workshop ...
Reiki Level 3 Training and Certification ... course, workshop ...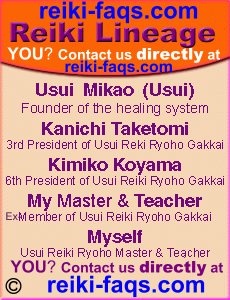 Training fees are for North London, subject to change, fees payable in advance, terms and conditions apply. Fees for other locations will vary according to extra costs / number of students in the group.
reiki-faqs.com: KK © All rights reserved 2006 to date
CAM Practitioner, Certified Trainer and Teacher, Writer, Reiki Master and Teacher